400 Ikea-inspired I-love-yous
Yesterday Mr. T and I drove to Cactus Land. Well, mostly he drove and mostly I cut a lot of organza petals (stay tuned for Shawna's ever-lasting flower garden). We made the journey in record time–11 hours and 30 minutes. This beats my Christmas record by half an hour, and it would have been more if we hadn't done a GPS-driven journey in search of a Wendy's* breakfast that was never meant to be. In any case, we made great time and got all the way to our "vacation home" in Mesa without having to stop for the night.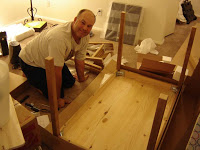 That left today for playing. I should say "playing," because T helped me run fun errands such as returning wood slats to Ikea and buying a few new furniture items, replenishing the bread and vino supply at Costco, and even buying groceries at the local (ugh) Walmart** store. As protest, T decided to race through the aisles of Walmart throwing random crap into the cart. I'm talking hot sauce, velveeta, lard, tomato paste, granola… anything he could get his hands on. As I chased him through Walmart laughing hysterically and hurriedly throwing items back on the shelves, I couldn't help but think "We actually fit in here today." Except, yeah, we were the only ones looking so damn happy to be at Walmart. In any case, one of T's random items stuck… I'm temporarily the happy owner of a big box of Drumsticks. 🙂
After running errands and touring my campus (stay tuned for a photo-blog of that adventure), we came back to the apartment to unload and T started to assemble the Ikea goods. Just facing a writing desk and coffee table, I teased T that his burden was light compared to moving me out here in August (check this out to see all of the pieces the poor bastard assembled). Midway through the desk, T informed me that it took approximately 400 screw turns for the table. I joked, "Just pretend that each screw is a little 'I love you,' okay?"
As I psych myself up for a new semester–four freaking seminars, two classes to teach, one full time job to survive–I'm happy that I have my new I-love-you table. It only cost $19.99 and some elbow grease, but every time I look at it, I'll think of T. (Cue the "awwwwwws.")
xoxo,
shawna
* Note: Wendy's breakfast biscuit things are sinfully delicious. Try one today, just don't try to try one in the back lands of Manteca. My wonderful Nuvi GPS took us on a goose chase exacerbated my me getting turned around and yelled at by both T and the Nuvi. Hmm. It would have been fine except for the damned Wendy's was closed! At 10 a.m. on a Friday. With no sign! Waaa.
** Note: The only reason for the Walmart stop was that I wanted to buy one of those water cooler things because the water in Mesa is horrible. Of course, they were completely sold out and instead of buying water, I made T help me shop for groceries.