Double trouble: That one time we adopted TWO puppies
Stopped in the left turning lane, I cuddled a pup on my chest, kissing the top of his tiny fluffy head. The young woman who pulled up next to us broke out into a grin, waving and making "awwwwww" sounds. At this, Mr. T held up an index finger in a "but wait!" gesture, and lifted up a SECOND puppy from my lap.
She lost her mind.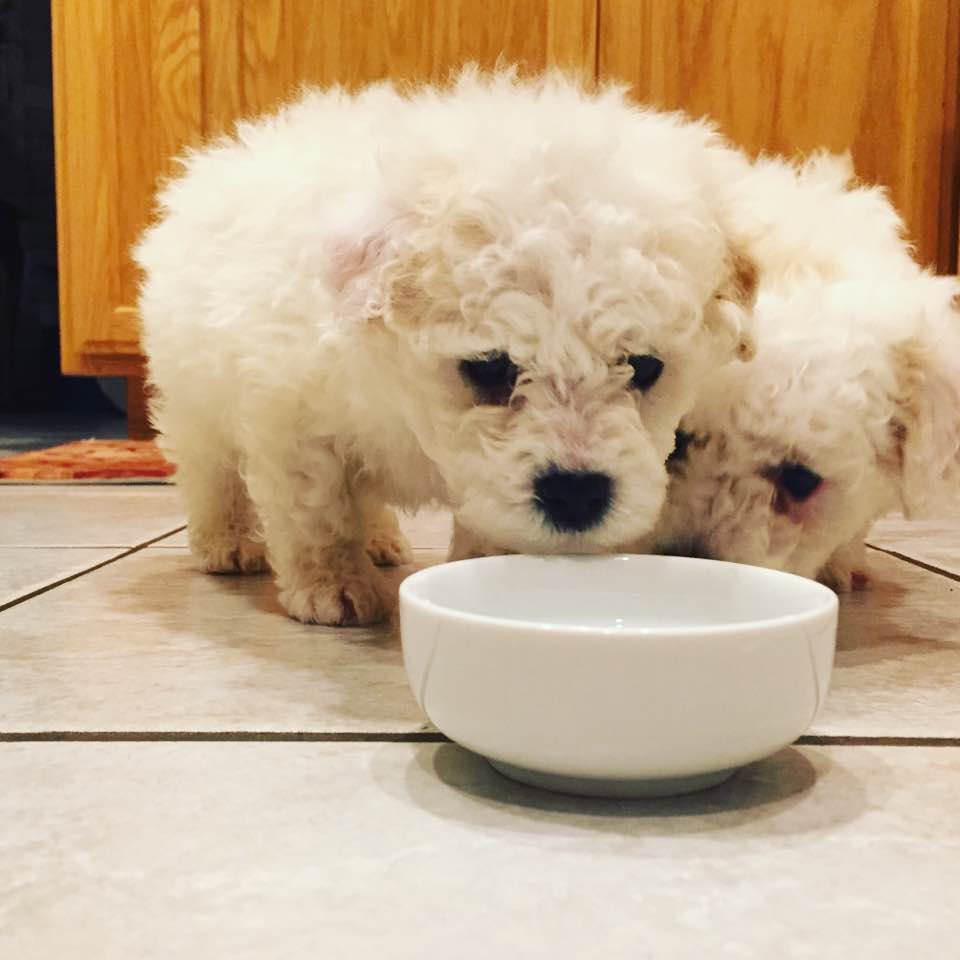 For a few seconds at a stop light, four days before Christmas, the power of puppies compelled us to roll down windows and talk with a perfect stranger in 35-degree weather. Oh, how our lives have changed in the last few weeks!
In October when we said goodbye to our precious Goliath, I told T he would be wise to get me a puppy for Christmas. It was an offhand comment, made with tears in my eyes. I never really expected it to come true, or be a double helping!
After Thanksgiving I spent several disappointing weeks scanning Craiglist and shelter posts for a small, non-shedding dog. Not realizing the crazy that is pre-Christmas puppy sales, I gave up after coming in second on several Craiglist pups and also being told at least twice that T and I weren't ideal candidates because we "don't have a family," aka children (Cue the collective scoffing of childless people who take DAMN good care of their pets. Ahem).
So, why I was perusing shelter ads a few days before Christmas, I can't tell you. But I found The One at a shelter in Auburn, 30 minutes up the road: A female maltipoo (maltese/poodle) named Angel, 8 weeks old, with one ear. I already planned to rename her Vinnie (get it?), but of course, another family had emailed just ahead of me. Harrumph.
Until the shelter emailed and said there were several in Angel's litter, and maybe we would be interested in a little boy pup? OH YES.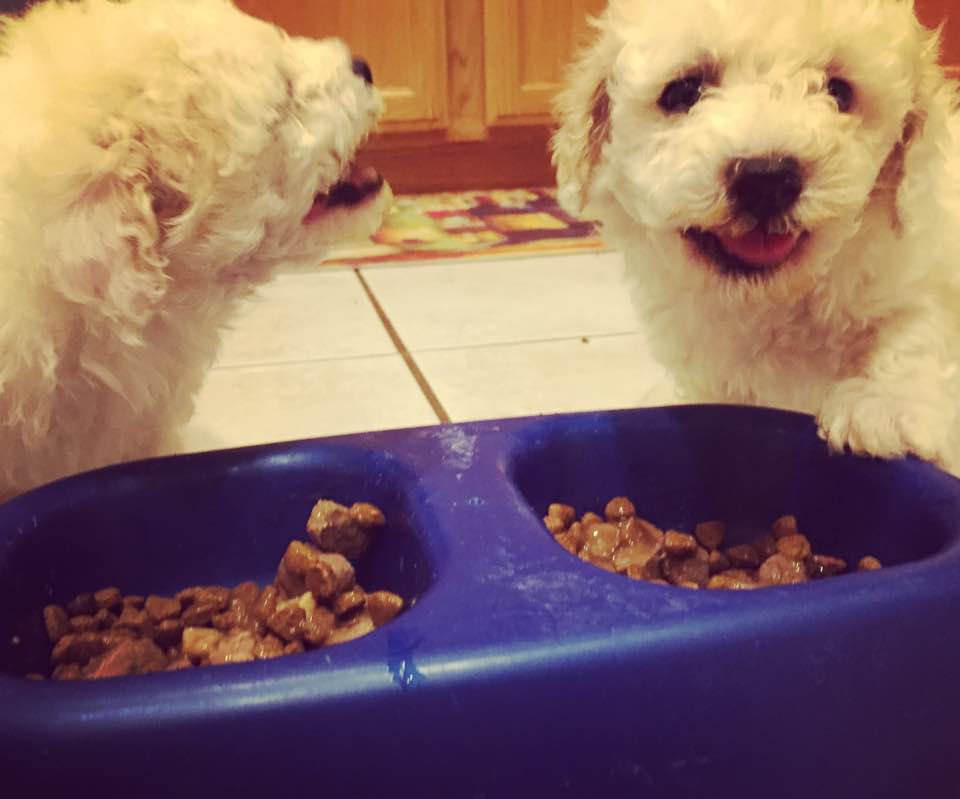 Fast forward 24 hours. I've knocked over my 9-foot Christmas tree (seriously), and T and I are driving up the road to meet some pups. He's telling me (for the thousandth time) not to get my hopes up, but I've already rubbed salami* on my wrists so they'll like me.
When we walk into the shelter office, we're assaulted by the sound of big dogs barking in nearby kennels, a box of cockapoos tussling, a toddler's Youtube videos, and the conversation of a couple choosing a pup. We look down and in a three-foot green plastic tub sits a squirmy cotton ball, tail wagging. He jumps up, eyes locked on me–pretty much peering into my soul.
We've found our dog!
Then, one of the shelter owners turns around the office chair to reveal their 3-year old daughter who is death-gripping another fluff ball. They pry it away as she begins a tantrum and give it to us to compare. Pup #2 is mellow, with a black button nose and soulful, somewhat sad eyes. While his brother jumps and wags, he just gazes up and then goes back to sleep. But in such a cute little way.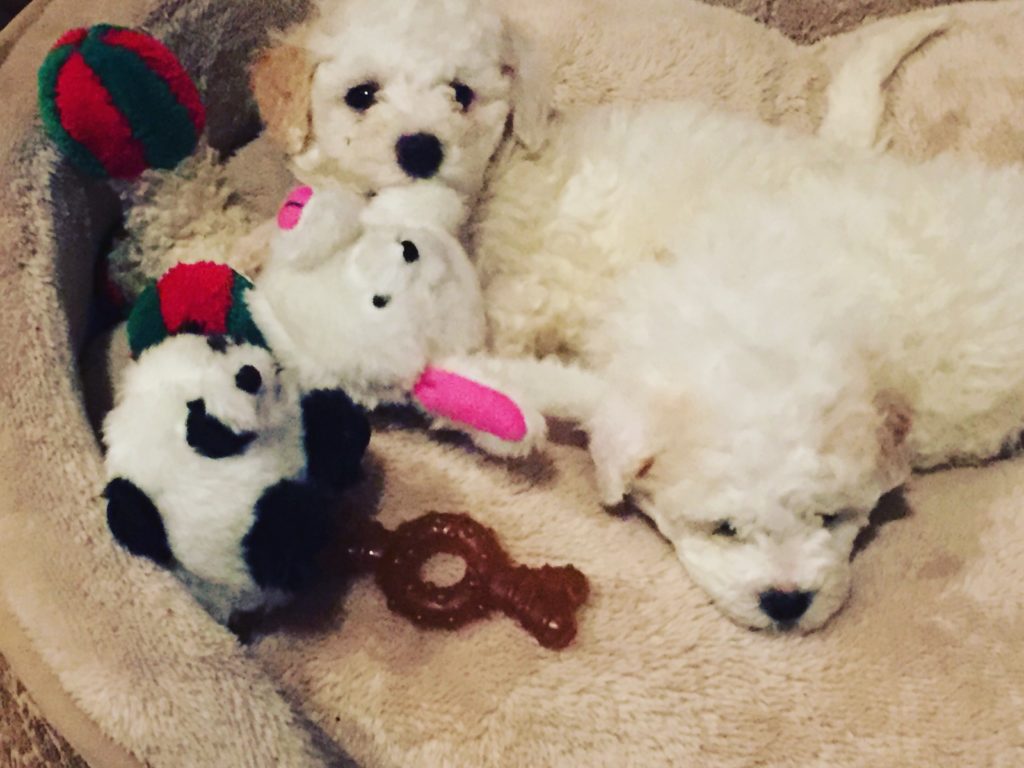 T and I take turns holding each dog, and the toddler screams and repeatedly makes passes on the pups while we confer. I float the idea of adopting both–I mean the thought of leaving one fluff ball in that giant bin!–but don't for a second think T will agree. I can't make up my mind. I love the excited one's personality, and the mellow one's short little face. I just can't decide.
And then T asks if there's a volume discount. The owner recognizes the liability of the screaming toddler, and prying a puppy from her hands, sends her upstairs with her papa to get snacks while we make our final decision.
Three weeks later, I STILL can't believe T agreed to adopt both.
We drove home, stopping by Petco to buy puppy food and tiny chew toys, soliciting name suggestions from our nearest and dearest.
On their first night, the dogs that would soon be dubbed Clyde Pratt and Walter Whitney (**a double aviation homage explained below) weighed in at 2 pounds, 13 ounces. Three weeks later, the bruisers have nearly doubled in size and indelibly marked our hearts.
Stay tuned for tales and videos of their antics. If you need a daily dose of cute, I post (probably too frequently) on Instagram at @thebluestmuse.
xoxo,
shawna
* Editorial note: I read this paragraph aloud to T and had to take a five minute cough/laugh break to marvel at my own ridiculousness.
** We couldn't decide whether call them Pratt & Whitney after the aircraft engine manufacturer, or Clyde & Walter after Clyde Cessna and Walter Beech, founders of two of the most successful small aircraft manufacturing companies ever. So we did both!