Happy National Donut Day!
During the early getting-to-know-you days of a semester, my students quickly learn a few vital things about me. Chief among them? My love for donuts. Maple bars. Plain glazed. Chocolate cake with nuts or sprinkles. Jelly filled. Very, very occasionally, an apple fritter from Apple Hill. My mouth is watering even to type the names.
In thinking back, I came to my love for donuts honestly. I remember my grandpa picking up  mixed dozens from Sacramento landmark Marie's Donuts when I was small. I recall hustling with my sister to Richard's Donuts before school, or walking there with friends.
One of Mr. T 's and my most romantic moments? Followed by donuts.
One of the things I'm most sad to miss at EAA AirVenture in Oshkosh? The original EAA donuts.
The way I got my dissertation finished? Donuts.
I love donuts so much, I served them at my doctoral defense meeting. Yes, I became Dr. Malvini Redden surrounded by the aroma of Bosa's finest. Now, I bring them for my students (at least, in the pre-COVID before times!). I would've served donuts at our wedding, but I married a cake man.
So the theme for June's tree was a no brainer with National Donut Day falling on June 4. Behold: my homage to donuts, dedicated to my nephew Leo who was born just in time for this great holiday.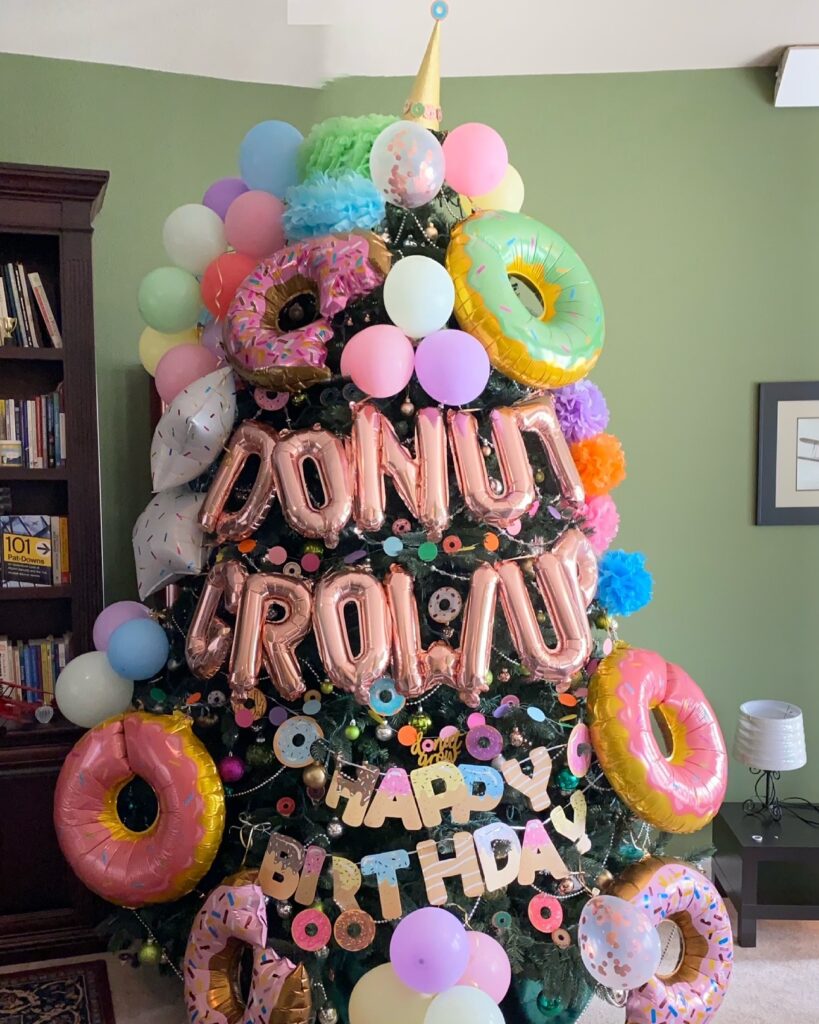 Now, in a perfect world, I would've constructed the donuts myself, but between end of semester stress, graduation, and prepping for summer school, I opted for Amazon's assistance. (P.S. I tried Target, the Dollar Store and Party City. There is a WOEFUL lack of donut decor in this world.)
The result? This absolutely ridiculous Ode to Donuts showcasing my utter inability to assess dimensions. I expected the small donuts to be bigger, with more depth (cardboard cut outs do not meet my Holiday Tree standards, ahem). And I planned for the donut balloons and lettering to be more diminutive. But I can't help but love this silly, joyful tree anyway.
xoxo,
shawna