The Ceiling Fan-iversary: Musings on a decade of marriage
Around our first anniversary, I remember joking about how relieved I was to discover that I actually liked being married to Mr. T. You know, on account of that whole getting hitched and then moving to Cactus Land two weeks after the honeymoon thing.
Spending our first year of wedded bliss in a commuter marriage situation wasn't ideal but I laugh at past me thinking that would be one of the biggest challenges we faced.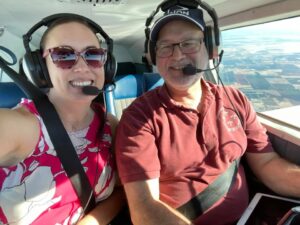 Fast forward a decade and HA. We've gone from seeing each other every other weekend to spending nearly every single minute of every single day together, thank you pandemic fun times. I am, however, pleased to report that while we have had some testy moments over the last few months of lock down– enough that we created a code word to whisper when we're driving each other batty–I still quite like being married to Mr. T.
Without getting too sappy, I'm grateful to have a partner who just gets me. Who supports my dreams. Who pushes me to be a better person. Who knows what will make me laugh, even, especially, when I don't feel like laughing.
It's bizarre that a whole decade has gone by though. In that time, I've finished a doctorate, learned to fly, earned tenure (WOOT), written a book(!), learned how to cook (far too well), figured out how to grow tomatoes (fish heads!), and finally have the dogs house trained and coming when called at least 50% of the time. I've also taken on the venerable quarantine hobby of baking sourdough bread.
Meanwhile, T's continued his leadership work in health care, building data centers, integrating health care systems with the cloud, and most recently, figuring out how to keep a health care system's IT functions running smoothly with a remote workforce, which is no mean feat. On the fun side, he's flown 24 new and different types of aircraft, become an expert formation pilot, flown airshows around the country (including as a performer in the EAA AirVenture Airshow TWICE), learned how to do major maintenance on our fleet of aging BMWs, and built both of our computers–his with a fancy water-cooling system! And he's mostly patiently awaited the warbirds I promised in our wedding vows.
I'm happy that as much as we've changed and grown in the last ten years, we've changed and grown together. Our accomplishments and hobbies might seem somewhat separate. In fact, someone might have just asked me, upon reading a draft of this post, "But what have we done together?" Umm, everything? We support each other in all the things. I wouldn't be the person or writer or scholar I am today without him giving me space, but also cheering me on and routinely offering the no-BS feedback I really need. And he wouldn't be the person or pilot or leader or computer nerd extraordinaire he is without a patient and project-tolerant wife, right? Right.
While I'd hoped to celebrate this milestone with a second honeymoon–Hello Europe! Hello Mackinac Island! Hello B-17 ride at Osh!!–and definitely with a Ten Year/Tenure themed bash, I'm contenting myself with humble home celebrations for now. I mean really, what else does a couple in month four of quarantine need, besides more time alone together at home? Such a gift. HA!
xoxo,
shawna