Must-read books from 2022
Looking for a good book or two or 80? I've got plenty of great reads to recommend from the 87 books I inhaled in 2022. (Yes, books continue to be my best hobby and coping mechanism of choice).
I've categorized my favorites into my Must Read Top 20 (split among nonfiction and novels, but in no particular order), with short snippets about each book. I also included notable mentions in fiction, nonfiction, fantasy, romance, and YA. Categorizations are loose and there's lots of overlap, of course.
Must-Read Nonfiction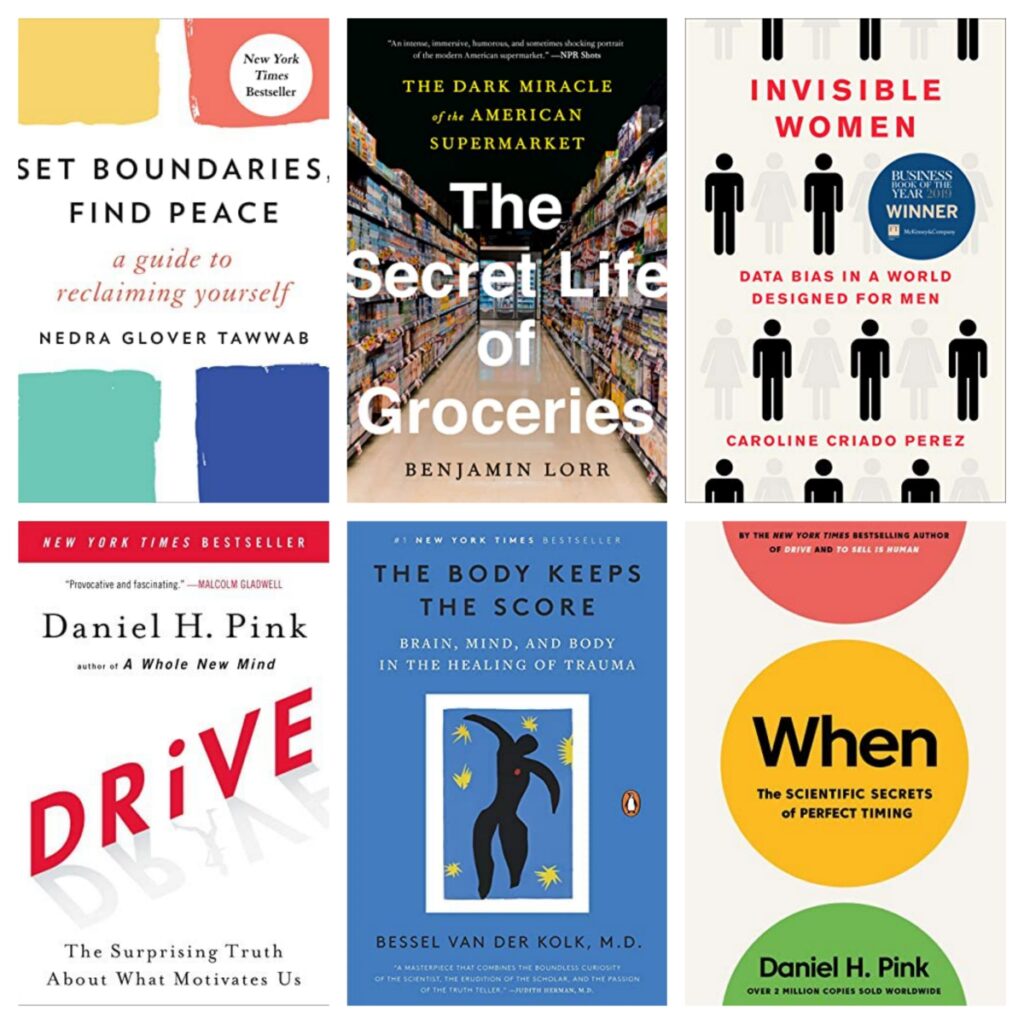 1. Set Boundaries, Find Peace by Nedra Glover Tawwab. If you can only read one book from this list, read this one. LIFE CHANGING. As I write about in the review "Set Boundaries, Find Peace: The Book We Need RIGHT NOW," Tawwab offers important and practical advice for negotiating boundaries in relationships—with romantic partners, family, work and ourselves. It's the book I wish I'd had decades ago and one I've promised to re-read on an annual basis so I don't forget the wisdom! I'm eagerly awaiting Tawwab's second book "Drama Free: A Guide to Managing Unhealthy Family Relationships." Ahem.
2. The Secret Life of Groceries: The Dark Miracle of the American Supermarket by Benjamin Lorr. This book is as fascinating as it is horrifying. Given how much I love to cook, I was honestly scared to read this one. But I'm glad I did, especially as a researcher. A masterclass of organizational ethnography, Lorr explores grocery industry history and important features like supply chains, how products get to market, how the industry is changing due to globalization, and importantly, the stories of people who keep the system going. The book is explicitly sympathetic to workers behind the scenes, including those in retail grocery, small business owners, long-haul truckers who are responsible for *EVERYTHING* we consume, and folks in industries around the world who face exploitation (his case study was commercial fishing in Thailand). While I expected some consumer guilt tripping, Lorr's analysis emphasized more how market forces, government, and modern capitalism are what will need to change to improve the industry. I particularly loved the narrative focus and evocative style of writing. In other hands, this book could've been horribly boring, but it hooked me completely. If you like Mary Roach's writing, you'll probably enjoy this one, too.
3. Invisible Women: Data Bias in a World Built for Men by Caroline Criado Perez. I first learned of Criado Perez's research after stumbling across the Guardian article "The deadly truth about a world built for men," which details ways that scientists, policy makers, city planners, physicians, oh, everyone, has constructed much of the world with male forms in mind. (Incidentally, the article came out just a few months before NASA canceled the first all-female spacewalk… for lack of appropriately sized suits.) When I finally got around to reading the book, I was ASTOUNDED by the sexism baked into just about EVERYTHING. I'm talking uniforms, car seatbelts, transportation, and snow plowing schedules in Sweden. My mind was fully blown by this book. What I particularly appreciated about Criado Perez's research on gender data gaps was her use of data from around the world. She makes so many compelling cases for change.
4. Drive: The Surprising Truth About What Motivates Us by Dan Pink. I'm admittedly a major Daniel Pink fan, since watching his TED talk about motivation years ago. Although his books lean heavy on economics and psychology research (and could really use a healthy dose of communication studies), I appreciate Pink's friendly and smart style. I learn so much from his books, particularly this one, about motivation. He demonstrates so clearly how schools and workplaces fail to understand motivation for complex tasks like creative work and learning, and instead rely on extrinsic motivation like compensation and grades. I'm such a fan of Pink's work, I even re-read When this year (which was a favorite read of 2021).
5. The Body Keeps the Score: Brain, Mind, and Body in the Healing of Trauma by Bessel van der Kolk. Whew. If ever there was a book to read in the middle of an ongoing pandemic, it's The Body Keeps the Score. I learned so much about trauma and how it shapes the brain and body. The author also lobs serious criticism on the American Psychological Association for its role in shaping how mental illness and trauma are treated (and health insurance companies for complicity). The book gets pretty technical in sections, but overall is a compelling read.
Must-Read Fiction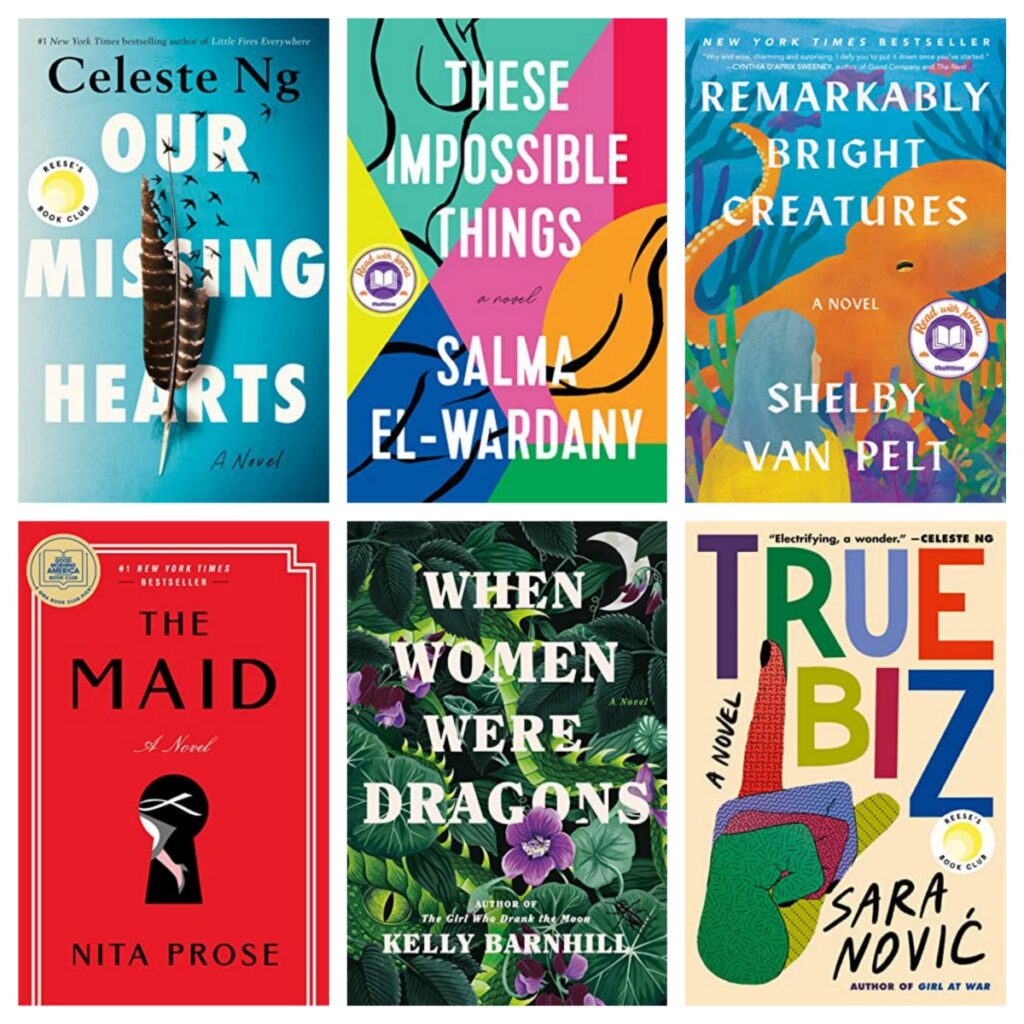 6. Our Missing Hearts by Celeste Ng. An absolutely gripping novel about life in a dystopian authoritarian hellscape (that sounds altogether too possible) and the unbreakable bonds between a mother and son. Ng's storytelling is so vivid and heart wrenching—once I started this book, I could not stop. I'll keep details of the storyline minimal to avoid spoilers, but I will say how much I appreciate the critical role of librarians in the tale.
7. These Impossible Things by Salma El-Wardany. Oh my goodness, I loved this novel. It expresses so much about female friendship, love, interracial and inter-faith relationships, family ties, and the trade-offs we make to keep ourselves afloat. El-Wardany writes characters so beautifully—I was rooting for all the best friends the entire book. Be prepared to laugh and cry.
8. Remarkably Bright Creatures by Shelby Van Pelt. Love, love, LOVED this book. It follows main character, Tova Sullivan, who is a night janitor at an aquarium. Tova, still mourning the death of her husband and son, makes friends with Marcellus, a giant Pacific octopus. Yes, you read that right. PLEASE listen to the audio version because Marcellus's commentary on the ridiculousness of human nature is not to be missed. I laughed out loud so many times during this one.
9. The Maid, by Nita Prose. Like many of the reviews, I can't seem to find a better word to describe The Maid than charming. A sharply written murder mystery set at a swanky hotel, the main character is Molly the maid, who takes her role very seriously, even as she is framed for murder. Molly is portrayed as neurodivergent and incredibly trusting—through her eyes, the simple task of cleaning is elevated to a sacred act. I loved this mystery story, even as it pained me to read Molly being taken advantage of due to her differences. All around entertaining and fun book.
10. When Women Were Dragons by Kelly Barnhill. I can't say enough good things about this book. I also don't know how to describe it exactly. A feminist folk tale? A trans allegory? I'm not sure. All I know is that the women in this book start dragoning. Yes, dragoning. I loved how Barnhill told much of the story through the perspective of Dr. Gantz, an elderly scientist who shares the history of dragoning, emphasizing the Mass Dragoning event of 1955. To hear about women turning into dragons through a scientific lens was laugh out loud funny at times. But it also brought up painful and poignant feelings about how society has attempted to control women (particularly painful in light of Roe v. Wade.) Altogether enjoyable read.
11. True Biz by Sara Nović. I finished "True Biz" in December and felt blown away by the fictional story of River Valley School for the Deaf. I realized quickly how little I know about the Deaf community and the struggles they face in accessing education, health care, and other civil rights. The book itself is gripping—following the coming of age of several Deaf teenagers grappling with identity and relationships, alongside the realities and inequities of navigating a world designed for the hearing. (I'm leaving out most of the plot to avoid spoilers) The book made me deeply consider ableism and the privileges I take for granted as a hearing person. Nović has a way of crafting characters to care about and sharing experiences you can feel in your bones, despite never having lived them. Totally recommend.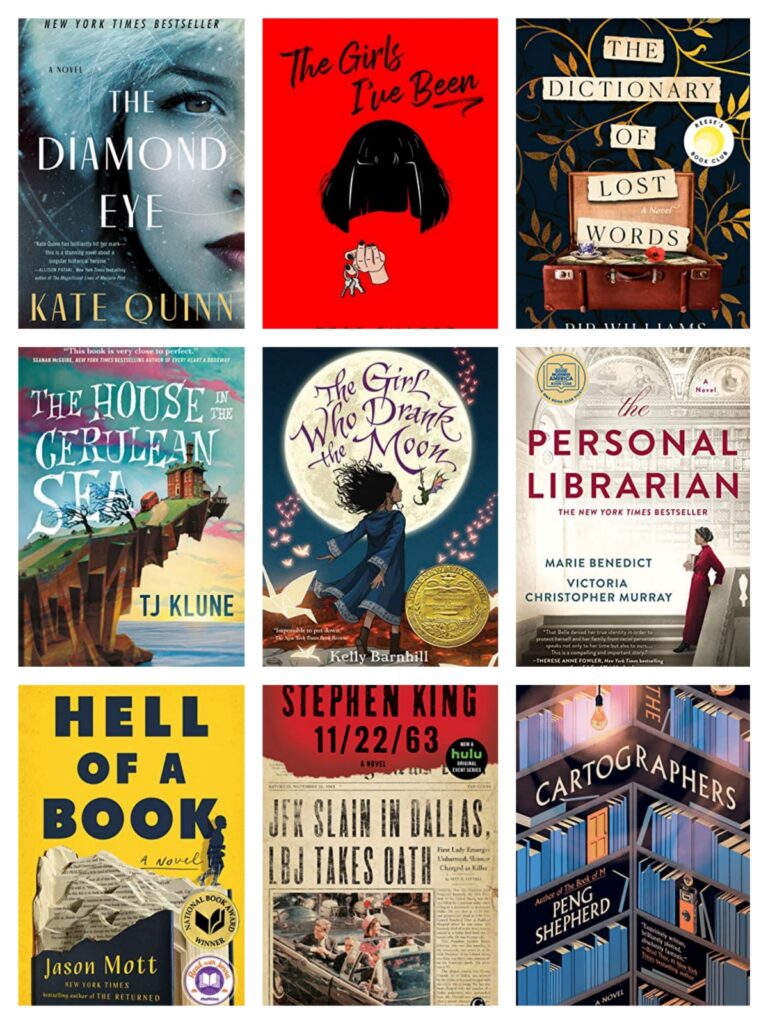 12. The Diamond Eye by Kate Quinn. I've loved all of Kate Quinn's historical fiction accounts of women heroines during World War II, and Diamond Eye was no exception. The book recounted a fictionalized version of the remarkable life of Mila Pavlichenko, the grad student-turned expert sniper for the Russian military. Hailed as history's deadliest female sniper, Pavlichenko grapples with motherhood, a deadbeat husband, loss, and friendship amid the war. Absolutely fascinating and brilliantly written. Stay by at the end for the author's notes about and if you're a grad student or former grad student, please enjoy the dissertation-as-a-minor-character.
13. The Girls I've Been by Tess Sharpe. I enjoyed this Young Adult thriller about the daughter of a con artist who reveals all of the "girls she's been before," aka the living props for her mother's cons. The story takes place during a bank robbery and showcases the quick thinking of the main character and the deft writing of the author. As you'll see below, I went on a bit of a Tess Sharpe kick after reading this first book. Fun and fast read.
14. The Dictionary of Lost Words by Pip Williams. Such a beautiful book depicting the creation of the Oxford English Dictionary, and the male gatekeeping of words and their meanings. The book follows Esme, the daughter of a lexicographer working on the dictionary. Based on real events, Esme's journey sheds light on what happens and what's left out when men create all of the meaning for words.
15. The House on the Cerulean Sea by TJ Klune. A delightful book centered around Linus Baker, a case worker in the Department in Charge of Magical Youth. His job is to determine whether a group of magical children at the orphanage will bring about the destruction of the world. It's a gorgeous story about love, transformation, and chosen family, with magic and fantasy thrown in. I loved every second.
16. The Girl Who Drank the Moon by Kelly Barnhill. After finishing When Women Were Dragons, I read a whole bunch of Barnhill's books, including the award-winning middle grade story of a forest witch who rescues children that villagers leave in the forest as sacrifices. The witch, Xan, usually finds adoptive homes for the babies, but after accidentally feeding one moonlight (instead of starlight) and giving her magic, Xan decides she must raise the baby as her own. Like Barnhill's other children's story, the book emphasizes not being afraid of people who are different, questioning authority, trusting children, and of course, believing in magic.
17. The Personal Librarian by Marie Benedict and Victoria Christopher Murray. As a lover of historical fiction, I really enjoyed this fictionalized account of the life of Belle de Costa Greene, who was JP Morgan's personal librarian and built the renowned Pierpont Morgan library during the "Gilded Age" in New York. I had never heard of Belle before happening upon this book. I was astounded to learn about her remarkable life and career—extraordinary for a women at the time, let alone a woman passing as white. The book illustrates some of the life-long tensions and pressures she faced supporting her family, and navigating a mother who advocated passing and a father who was a civil rights activist and the first Black person to graduate from Harvard. Overall, fascinating! (Also recommend sticking around for the authors' notes at the end. I enjoyed learning how the book came to be, and how the authors developed a collaboration during the pandemic)
18. Hell of a Book by Jason Mott. This award-winning power house of a book was a punch in the gut. The book follows three main characters—an unnamed Black author on his book tour; Soot, a young Black boy from a rural town; and The Kid, who follows the author on tour and may or may not be imaginary. It's a riveting, many times uncomfortable but also moving story of family, love, art, violence, and the realities of being Black in America.
19. 11/22/63 by Stephen King. I haven't touched a Stephen King novel since my mom caught me trying to read my aunt's copy of Gerald's Game when I was ten years old. I don't enjoy horror and have just ignored him for the most part. But running across 11/22/63—a book that sends its characters into a magic portal in an attempt to rescue JFK from his Dallas fate—intrigued me. The book follows Jake Epping, a middle school English teacher, on his journey across times into love, adventure, life saving, murder, crime, and ultimately an attempt to save the president. Although there is some extraordinarily graphic violence during one section of the book, I enjoyed it overall.
20. The Cartographers by Peng Shepherd. In the world of virtual navigation, many of us may not give much thought to maps anymore, but Peng Shepherd's The Cartographers demands reflection on the power and danger of maps. Main character Nell is dealing with her estranged father's sudden demise, and the circumstances that led to him banishing her from an elite cartography career. The book revolves around her relationship with a particular old map—one that has systematically disappeared and along with it, others who know about it. It's a brilliant thriller, one that I couldn't put down.
Other Great Reads