2020 Reading Report so far: Must-read books (and a few to avoid)
In January, approximately 1,000 years ago in 2020 time, I set an intention to read 100 books this year. (And yes, of course, I mean mostly listen to. As you know, I love audiobooks and OF COURSE audiobooks count as reading, ahem.)
So far, I've enjoyed 53 titles and have some solid recommendations and warnings. Books that made me cry, cringe, laugh, and think differently. Books that helped me pass the first couple months of quarantine without losing my marbles. Books that brought comfort and hope. And a few that I regret spending the time on in hindsight.
But first, the best of the best.
Books You MUST Read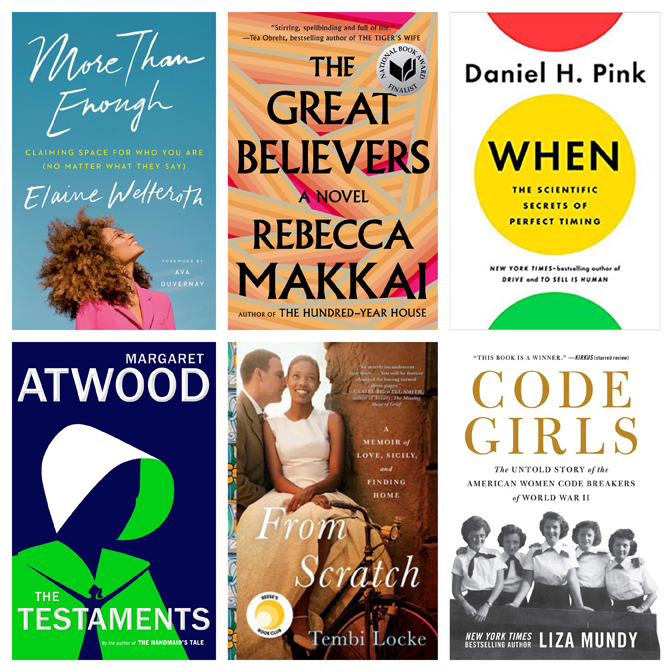 I LOVED, LOVED, LOVED More Than Enough by Elaine Welteroth. Her story and words are so inspiring. I remember laughing out loud, crying, and raging at the injustice she faced on the way to achieving her dream job(s) as the youngest magazine editor in Conde Nast history and now a judge on Project Runway. I am so inspired by her creativity, hustle, and courage. Everyone should read this book, especially young women. (P.S., I'm such a fangirl. Welteroth is a Sacramento State alum and I got to see her speak at a women's pay equity event last fall. She's incredible! And in the audiobook, she includes asides from her parents which is damn adorable.)
The Great Believers by Rebecca Makkai broke my whole heart. A rich story of the early years of the Aids epidemic in Chicago, it brought to life a terrifying time that I was too young to remember personally but have felt the repercussions of throughout life.
I will be talking about When: The Scientific Secrets of Perfect Timing by Daniel Pink until I die. I learned SO MUCH about timing… the best time to take a nap, make decisions, go shopping, get seen by a judge… the science of time is absolutely fascinating. I do, of course, wish he'd cited some of the communication studies research about time, especially Dawna Ballard's work about how we make meaning of time.
I got The Testaments by Margaret Atwood for Christmas and had it finished just after New Year's. Not that I enjoy contemplating a dystopian future that feels all too possible in our current political climate, but I couldn't put it down!
From Scratch, by Tembi Locke is one of the most sensual books I've ever read. The true story of an American actress who falls in love with an Italian chef, From Scratch illustrates passionate love, Italian culture and cooking, the despair of terminal illness, the scorching pain of racism, and the hope of family with the most vivid writing. I remember listening to Locke's description of her husband's cooking and his illness while making dinner in January, and bawling my eyes out as I chopped mirepoix. Her writing evokes every sense and I can't wait to read more of her work.
Having read dozens of World War II books, I did not expect to be so moved by Liza Mundy's Code Girls, The Untold Story of the American Women Code Breakers of World War II. Part of what got me was learning just how many women–350,000!!–were involved in the U.S. armed services during the second world war. Most of the histories I've read and movies I've seen rarely feature women (outside of wives waiting at home or nurses), and this book showed how integral women were to the war effort… and how they were completely screwed after the war, their positions given to men, their talents and skills denied in propaganda designed to convince them their only place was in the home raising babies. I read this book during the same time as watching For All Mankind on Apple TV, which reimagines the space race with female astronauts in the early 70s, and found myself so angry and wistful… What would it have been like to have so many more female historical heroes? It turns out we have some, but their histories haven't been told until now.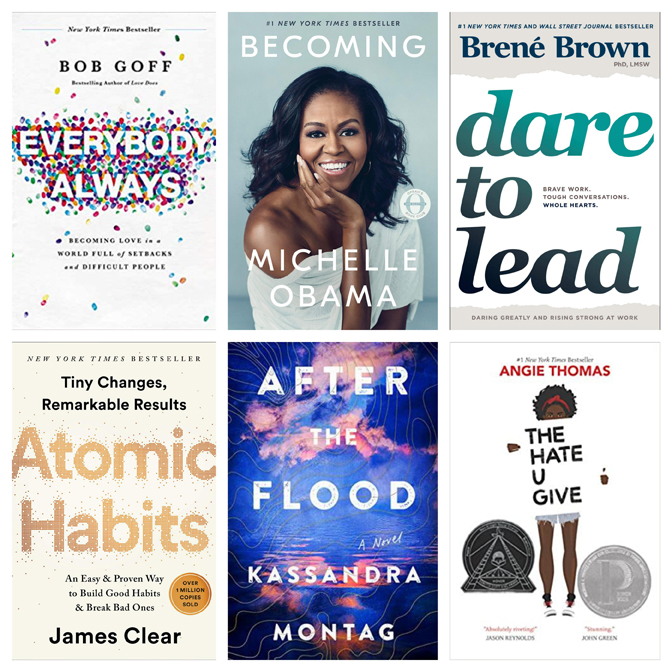 My penchant for choosing books with cute covers and not reading the description continued with Bob Goff's Everybody Always and I admit, I almost stopped listening when I realized it was a religious book. However, as I read, I learned it's not about religion per se, but the tenets of Christ… the real ones, ahem, that talk about approaching people, ESPECIALLY the difficult ones, with love and compassion. I enjoyed Goff's storytelling and approach to ministry, one that privilege's people's humanity and life experiences.
Michelle Obama's Becoming hit my Libby library bookshelf right when lockdown started mid-March and I didn't realize how much I needed a familiar, comforting, smart voice in my ear. Before reading, I didn't know much about her life, her drive and ambition, or what it was like to raise two children in the White House. Such a remarkable woman! I loved her message of hope, especially in current political times.
Brene Brown's Dare to Lead should be on every working person's bookshelf, especially those who manage others. I LOVED Brown's focus on vulnerability, being truthful and trusting with feedback, and helping others to rise. Her explicit communication focus made my heart sing, although I would've loved if she acknowledged, you know, any of the communication literature that talks about leadership, framing, and emotions in organizing.
If you've followed this blog at all, you know how much I love a good time management or self-improvement book. I wrote a whole post about the Power of Habit after all, and Willpower remains one of my favorite reads. So I absolutely adored James Clear's Atomic Habits which builds on Power of Habit and illustrates how to build habits incrementally. As a huge fan of small wins, this book spoke to my soul.
I don't like scary books or movies as a rule, but I enjoyed Kassandra Montag's After the Flood, despite it scaring the crap out of me. Montag imagines a world suffering from post-apocalyptic flooding, where most of us are surviving on the water, bartering with others in mountain top colonies, trying not to get caught by larger vessels or breeder ships. The story centers around Myra, who is traveling with her 7-year old daughter, Pearl, while grieving the loss of an older daughter who was stolen by her father when the flooding started in earnest. It wasn't a fun read–Myra is a difficult character to like, and the circumstances are abjectly challenging–but it was a compelling story that I couldn't put down.
I read Angie Thomas's The Hate U Give early in the year, not realizing how much her story about a police shooting of a young Black man and a young woman's grief and fight for justice would foreshadow the months to come. This is a powerful, award-winning book that shows what it feels like to be inside a broken, unfair system. I fell in love with the main character, Starr, whose grief is completely consuming, and whose courage in speaking out for her friend against systems of oppression is inspiring. (Note: It's narrated by Bahni Turpin, who is one of my favorite voice actors.)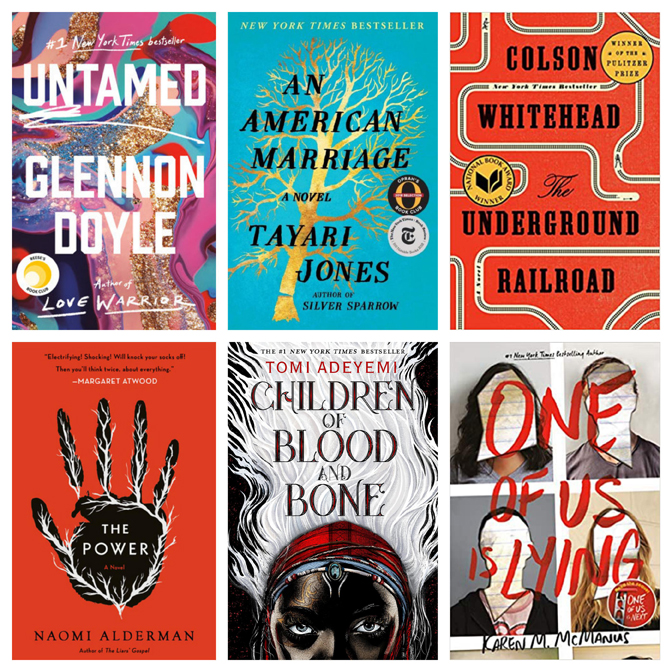 Glennon Doyle's Untamed is another book I stumbled upon because of it's cute cover. I'd never heard of Doyle, who gained writing fame with her blog Momastery and her first book Love Warrior, which discussed her struggles with addiction and redemption through love, church, and family. In Untamed, she shares the story of falling in love with soccer champion Abby Wambach, and how she upends her life and reputation in the best possible ways. More though, the book is about how women conform to societal expectations and the narratives that say women should be selfless always. I loved the empowerment message, although am still weighing her complete rejection of selflessness with the Everybody Always message of living for others. It'll be a balance of both for me.
Another book that broke my heart and ignited a burning rage about racial injustice was Tayari Jones's American Marriage. It's the story of a newly married Black couple, Celestial and Roy, whose lives are torn apart when Roy is convicted for a crime he didn't commit and sentenced to 12 years in prison. The book describes how Roy and Celestial each cope, and rebuild their lives when he's finally set free. It's an intimate, insightful, devastating book written so beautifully it hurts.
This was my second time trying Colson Whitehead's Pulitzer Prize winning book The Underground Railroad, which imagines the underground railroad as literal underground transportation. It's a brutal book, like most about the evils of slavery, but a profound and important read. (Also narrated by Bahni Turpin, who is a masterclass voice actor.)
Although I don't re-read books too terribly often (exceptions: Harry Potter and Kushiel's Dart), I had a hankering to see if Naomi Alderman's The Power lived up to my memory. It did. The Power flips the script on human history, framing women as the power holders, literally. Alderman describes a world where women get "the power," aka the ability to emit electricity from their hands, and how that shifts the dynamics between men and women throughout history.  The most powerful part to me? The ongoing conversation between a man and his editor, getting feedback on a draft of his writing. The conversation is SO ON POINT for how women have been treated/are spoken to, and the ways we navigate conversations in power-down positions, hedge, humble ourselves, denigrate our work, etc.
I stumbled upon Tomi Adeyemi's Children of Blood and Bone through my Libby library app and was immediately drawn into the fantasy world of the maji, a group of magic practitioners in the kingdom of Orïsha, who have been oppressed, murdered, and their magic banished. A coming-of-age story, the book follows heroine Zélie Adebola and her brother as they adventure, escape danger, rescue a princess, fight an evil king, and try to bring magic back. It's an exciting, fast-paced, poignant story that I couldn't put down. Definitely listen to the audio version (with my beloved Bahni Turpin, yet again) because the African accents and language is so beautiful to hear.
Studying teens and social media the last few years, I was immediately drawn into the YA thriller One of Us Is Lying by Karen M. McManus about a group of teenagers accused of murdering the kid who ran the school's biggest gossip mongering app. I appreciated that the characters were well-developed and interesting, and that the book took on tough issues like sexuality, class, and race, as well as, you know, murder.  The sequel (pictured below) was also great.
Books You Can Skip (for now, perhaps)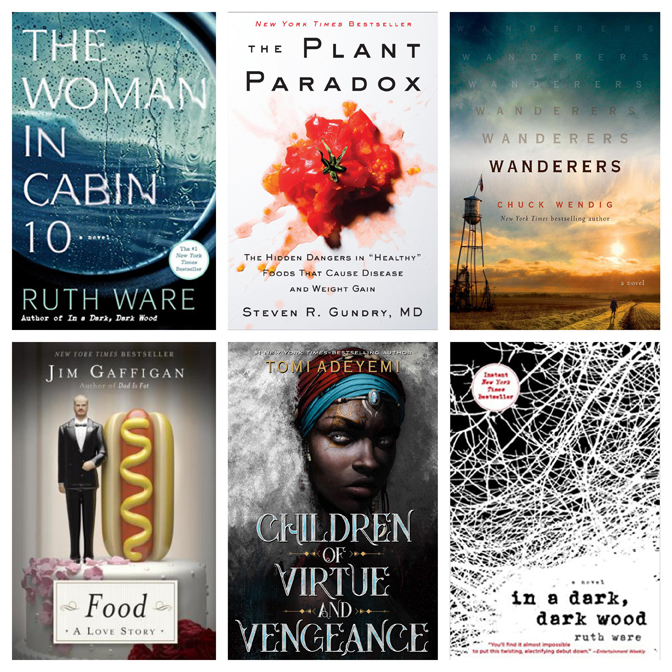 I got on a bit of a Ruth Ware kick over the last few months, after reading The Death of Mrs. Westaway (noted below) and loving it. While generally entertaining, some of the books get so implausible (In a dark, dark wood) or the main characters so annoying (The Woman in Cabin 10), that I just cannot recommend.
The scariest book I've ever read? Steven Gundry's The Plant Paradox, which basically says most food is trying to kill us and promises the secrets to perfect health if only you follow a complicated, expensive, near impossible-to-maintain diet. No thanks.
Maybe the dumbest reading choice ever? Reading a book about a worldwide pandemic, during a worldwide pandemic. While Chuck Wendig's Wanderers absolutely sucked me in and in some ways, I appreciated that the scale and awfulness of their pandemic dwarfs ours, but OMFG SHAWNA WHY DID YOU READ A PANDEMIC BOOK RIGHT NOW? If you want to be grossed out and distressed, definitely read this book, which features one of the most horrifying sexual assault scenes I've ever read.
I SO wanted to love Jim Gaffigan's Food because I love his comedy, and I was excited that he narrated his book. But, while a long love letter to junk food, it lacked any deeper meaning or cleverness.
Because I absolutely adored The Children of Blood and Bone, I wanted to adore The Children of Virtue and Vengeance, but I got seriously annoyed with all of the main characters by the end for repeating the exact same mistakes and acting completely shocked by them. I will, however, be reading the third book in the trilogy whenever it comes out!
Other Fun Reads I'd Recommend That You Can Look Up On Your Own Because This Post Got Really Really Long All of A Sudden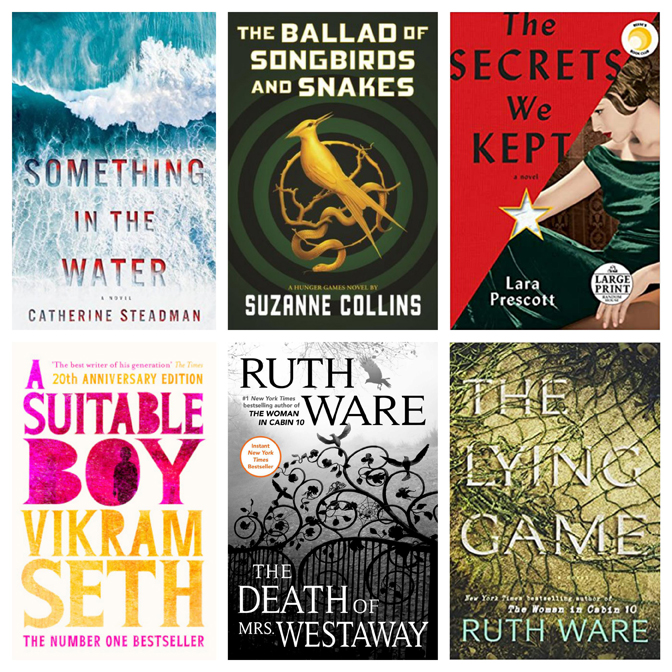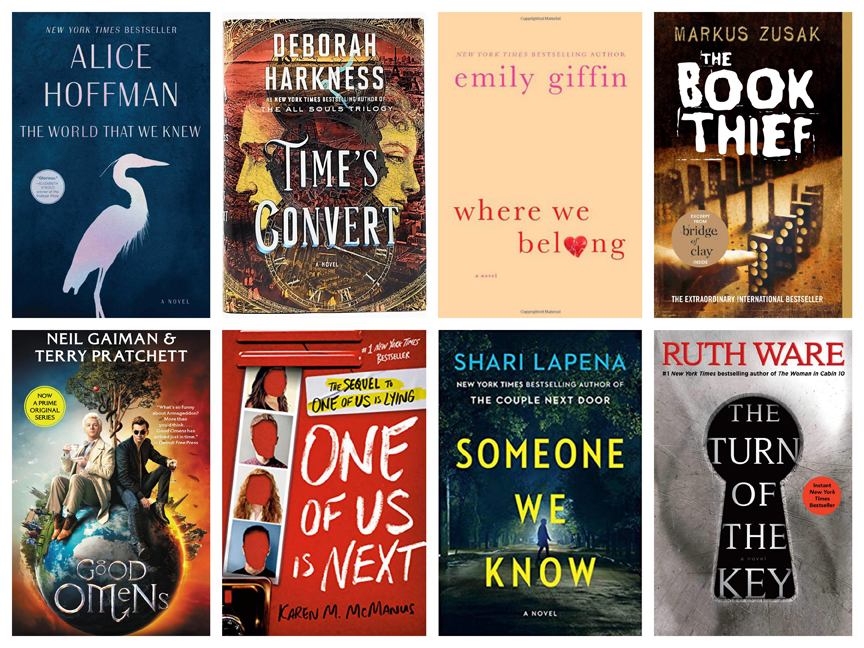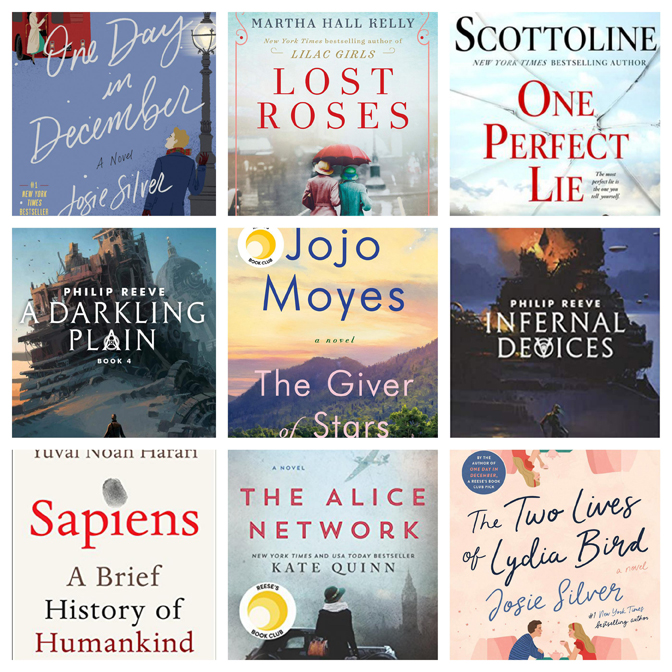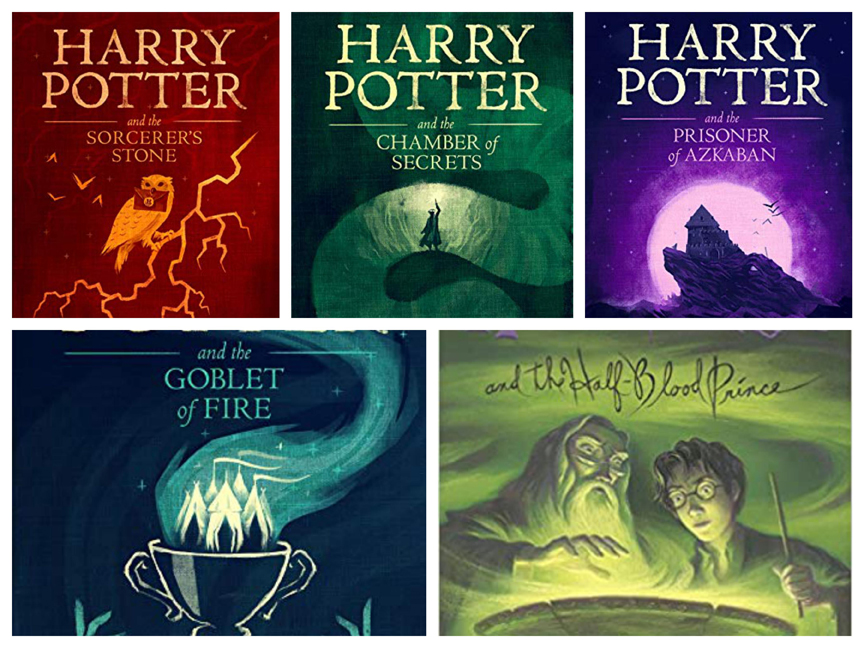 xoxo,
shawna