Artichoke parmesan sourdough stuffing
Cancel whatever stuffing plans you've made for Thanksgiving, because I have the best stuffing recipe on planet right here. Artichoke. Parmesan. Sourdough. Need I say more?
The recipe comes from Sunset Magazine reader Leslie Jo Parsons and it's become a mainstay at our holiday table. Try it and let me know what you think!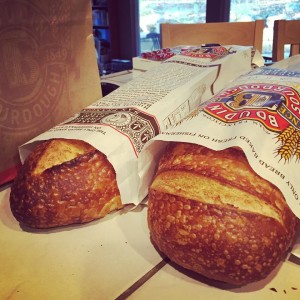 Artichoke parmesan sourdough stuffing
Adapted just slightly. Stuffing can be prepared a day in advance and refrigerated until cooking time. The original recipe calls for cubed sourdough but I find it turns out better (and less mushy) when the cubes are dried out for several days.
Ingredients
1 pound mushrooms, cleaned, trimmed, and sliced
1 large onion, chopped
1 cup chopped celery
2 tablespoons minced garlic (TABLESPOONS. Sigh.)
2 cups or so chicken brother
1 loaf sourdough bread (1 pound), cut into 1/2-inch to 3/4-inch cubes, dried out
12 ounces marinated artichoke hearts, drained and chopped
1 cup freshly grated parmesan cheese
1.5 teaspoons poultry seasoning
1.5 tablespoons minced fresh rosemary or 3/4 teaspoon dried
Salt and pepper
1 large egg
Directions
1. Preheat oven to 325 or 350 (whatever the turkey requires).
2. In a large frying pan over medium-high heat, saute the mushrooms in a little butter or olive oil until they've released their juices. Add some of the garlic, careful not to let it burn. I won't be mad if you splash some white wine in there. Cook for a minute. Remove mushrooms to a large bowl.
3. In the same pan, saute onions, celery, and remaining garlic until lightly browned, about 10 minutes. Add to the bowl.
4. Add everything except the egg to the bowl, mixing well.
5. Lightly beat the egg in a small bowl. Make a well in the stuffing and add the egg. Mix well.
6. Transfer stuffing to a shallow casserole dish. Cover for a moist stuffing; for crusty (highly recommended), leave uncovered. Bake until hot and lightly browned, about an hour (internal temp of 150 degrees).
7. Enjoy!
Notes:
– Since our fam is big on stuffing, I double the recipe and cook in a roasting pan. Since it ends up being deeper than a 9×13 pyrex, it requires some stirring and extra cook time in order to heat through and get crispy.
– Yes, of course you can add more cheese. I usually dust with a little cayenne, too.
xoxo,
shawna
NaBloPoMo posts:
The best laid plans
I just realized how much I miss Google Reader
Christmas tree diet report
A grateful heart: Coffee-n-walks
Slow clap for Canada (and gender equity)
Flashback Friday: Swimming with dolphins
6 things I'm going to do before 2016, dammit
A grateful heart: A grump and a pint-sized bookworm
Why I appreciate Veterans in the classroom
V is for Victory. And Vitamix.
Je suis Paris
A grateful heart: Paella and friends
Embracing "old lady" shoes. Maybe.
Controlling the teacher rage. Barely.
Flying photos and fall beauty
What happens in Vegas should stay in Vegas
Pretending I like the #NCA15 conference hotel
#NCA15 Org Comm top paper fabulousness
So long #NCA15
The best potato gratin ever, thank you Alice Waters