I was conveniently out of town the last several times my little sister moved. (Just like I'm conveniently out of town when anyone I know moves…) But she and my bro-in-law just got their first house together, and their move date happened to be during my university's fall break. And as it was also right after two ginormous Thanksgiving meals, I volunteered to help thinking, Sure, that'll make a nice workout.
Oh. My. Gawd. How did I forget how exhausting schlepping boxes can be? I didn't even get into the furniture or appliances territory, but box after box up the U-haul ramp? Oy, my back. I expect to sleep well tonight!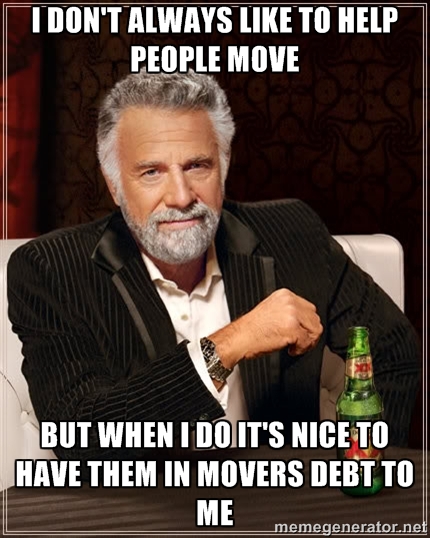 The good news? I'm motivated to never ever move again myself, ever, and I've definitely secured the Sister-of-the-Year crown.
xoxo,
shawna
NaBloPoMo posts:
The best laid plans
I just realized how much I miss Google Reader
Christmas tree diet report
A grateful heart: Coffee-n-walks
Slow clap for Canada (and gender equity)
Flashback Friday: Swimming with dolphins
6 things I'm going to do before 2016, dammit
A grateful heart: A grump and a pint-sized bookworm
Why I appreciate Veterans in the classroom
V is for Victory. And Vitamix.
Je suis Paris
A grateful heart: Paella and friends
Embracing "old lady" shoes. Maybe.
Controlling the teacher rage. Barely.
Flying photos and fall beauty
What happens in Vegas should stay in Vegas
Pretending I like the #NCA15 conference hotel
#NCA15 Org Comm top paper fabulousness
So long #NCA15
The best potato gratin ever, thank you Alice Waters
Artichoke parmesan sourdough stuffing
Green tomatoes
Baking with Marm
A grateful heart: Thanksgiving joy and gratitude doodles
A grateful heart: Nosy neighbors and night time walks